PACKAGING & ASSEMBLY
Laser welding system
Manufacturer: Alphalaser
Model: ALP 35S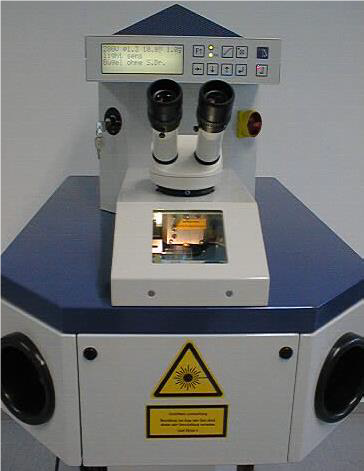 General Description:
Laser welding system to weld metal parts. Not to be used with plastic specimen! Chamber is flushed with Argon during welding process. The system is water-cooled and the tank has to be refilled regularly to allow safe operation – its filling level is monitored by the system which goes into a fail-safe mode if this level drops below a minimum threshold.
Key Specifications:
Welding spot diameter: 0.2 – 2mm
Charging Lamb voltage: 180 – 450V
Charging Lamb pulse duration: 0.1 – 10ms
Pulse frequency: 0.1 – 9.9 Hz
Cooling water level is monitored.
Argon gas supply can be activated but is not necessary for welding operation.
Availability

Use allowed for all researchers with permission

Location

Environmental Lab
Europastraße 12
9524 Villach

Responsibles / Contact

Dr. Jochen Bardong / Bernd Koschier
Tel.:+43 4242 56300 209 / 268